I had 7-8 lbs (yes lbs of tomatoes, not 7-8 tomatoes) sitting on my counter with no way for me to eat them all before they would go bad. I did a google search on how to freeze tomatoes and instead found a recipe for roasted tomato sauce. It sounded like a good idea. The best part was that I got to use the garlic and basil from the garden too. If only I hadn't used all of the onions I grew, I could have made a completely home grown tomato sauce.
All the veggies chopped



About halfway through the roasting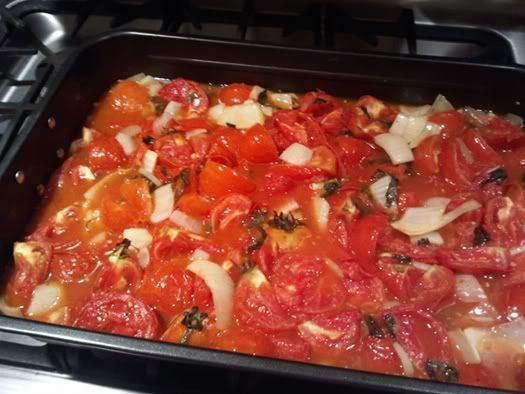 Blurry picture of the sauce after running it through the food mill.

Dh came out of the office and told me that it smelled like an italian restaurant. Let's hope it tastes as good as it smelled.