Last night we had Pop-Pop (my dad) and S#5 & BIL-to-be over for dinner to celebrate his birthday. It was much nicer weather than we had for his
birthday
last year.
Dad requested ribs for dinner. It sort of threw me into a panic. I'm not a "eat meat on the bone" person. I don't really like ribs or even fried chicken. It's my thing. I don't like gnawing on bones.
However, when your father requests a birthday dinner, you make do. I googled and read recipes. DH went to Sam's Club and got a couple packages of baby back ribs. I made a dry rub and marinated them for a few hours. Next I covered the ribs in sauce & wrapped them in foil before baking for 3 hours at 250. DH finished them off on the grill.
They turned out great (if I can say so myself!) They were tender and the meat fell off the bones as you ate. I wasn't squeamish at all. The
potatoes
and salad (made by S#5 with homemade dressing) finished off the meal. For dessert, I made the boston creme pie cupcakes again and they were just as good as last year.
Kids had a fun evening. They talked Pop-Pop and BIL-to-be playing tailgate toss. A challenged BIL-to-be to a hula hoop contest. He was a good sport and played along.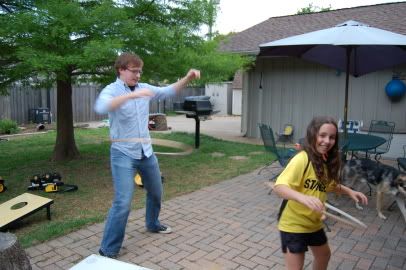 Lucky for him I caught a picture where it looks like he knew what he was doing! Only another year or so before they are married and he can start saying no to the kids when they bug him too much.