We had another busy weekend in our household. Lots of things to do.
B had his first t-ball game. I was a bad mom and forgot the camera. There are plenty of games to go so I'll take pictures next time. He played pitcher and got 4 outs at home. The funniest play was when DH told him to be ready for the player at 3rd and go straight to home plate to get him out. Well, that's what B did, ran straight home without even trying to get the ball! Even the umpire was laughing.
I left after the 1st inning because we had A's dance recital. She did wonderfully but my pictures turned out awful. They asked us to not use flash and my big camera's battery was dead so I used the little point and shoot. Very blurry results.
Tap



Ballet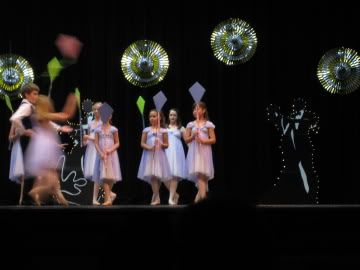 Sunday was John's piano recital. He played 4 pieces and did great too.
Duet with Ms Chopin



Done!