Over the summer we had great plans for doing stuff & making stuff. Very little of it got done. We have a long list of things to do someday that we still talk about.
The one thing we did do was dye yarn. We used bare yarn from KnitPicks, Wilton Icing dye and this
tutorial
. The yarn has been hanging in my laundry room for awhile now. I bought myself a ball winder for my birthday so I wouldn't have to wind the 400+ yards of yarn (each) myself. I've very happy with the investment because now I can take pictures of pretty yarn cakes.
A dyed her yarn blue & purple. The dye didn't soak through all the yarn so it bits of white between the blue & purples. We decided it has a tie-dyed look.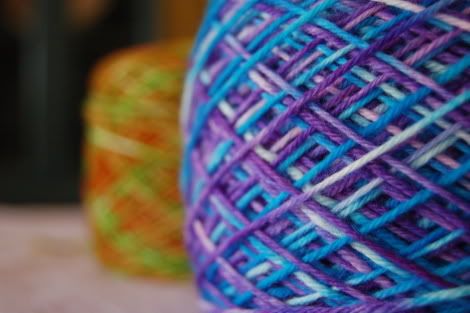 J tried to make camouflage. His turned out bright green & orange tones instead of camo but he likes it.