We're back at the lake for the 4th. We've been busy.
Sunday night we went to watch fireworks on the lake. Pictures weren't good but I got a shot of A's impression of the Statue of Liberty.
Sunday & Monday we spent the day on the lake with family & friends. By Tuesday we were ready for a break. We went geocaching and took a trip the fish hatchery where they raise rainbow trout to stock the rivers.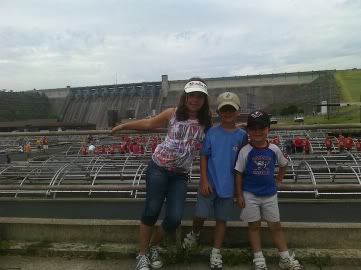 After the hatchery we went to
Billy Gail's
for lunch. We drove by it on our way through town and the parking lot was full. After a quick google on the phone, we decided to try it for lunch. The kids split a full stack of chocolate chip pancakes. They each had one and they were huge! They all did a good job but none could finish.