After lunch we headed to
Silver Dollar City
for the rest of the afternoon. If you go in after 3pm, you get to come in the next day on the same ticket. Kids enjoyed the kiddie rides.

A is sitting next to J if you can see her



DH & A are in the top row

Wednesday morning DH cracked the whip and got us up at the break of day to get back to SDC. We made the line for the first cave tour.
B really loved the cave. I carried him most of the way because he was very slow going down the stairs. He's a spelunker now.
We ran into Gene, a family friend. He's the epitome of SDC.
We did pretty much everything there was to do at the park. Lots of walking up and down lots of hills. Kids enjoyed it.
At the end of the day DH decided to ride the Wildfire roller coaster again and we could take pictures at the observation deck. I of course didn't see him on the coaster. The boys decided they had to go to the bathroom. We got back just as he was getting off. Luckily, A stayed behind and took these pictures.

DH is looking nervous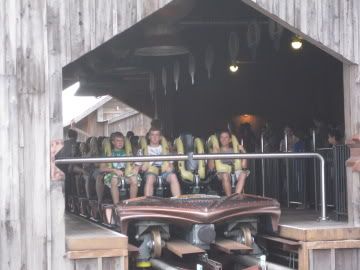 The first loop



And he survived