DH sent me pictures. I think it was a hint to get back to the blog. I took it.

Here are his photos from Jan & the first week of February.
All dressed up for the dance
A signed up for Junior Assembly. It is a group that sponsors dances for the 8th graders from area Catholic grade schools. I think the intention is for the kids to interact and get to know each other before high school. I don't think it works that way. A says hello to the kids she knows from other schools and then hangs out with her friends from school.
Skating at Clyde Warren Park
Refreshments at Katy Trail Ice House
Last Friday was Grandparents Day at school. They had a half day. After a quick lunch, they all went out with the ILs. They went downtown to the Clyde Warren Park. B stayed to ice skate on the plastic rink. The others went to the DMA for Hopper Drawings exhibit. Afterwards they stopped at the Katy Trail Ice House for refreshments. And no, that isn't A's drink, it is DH's.
Snow in Dallas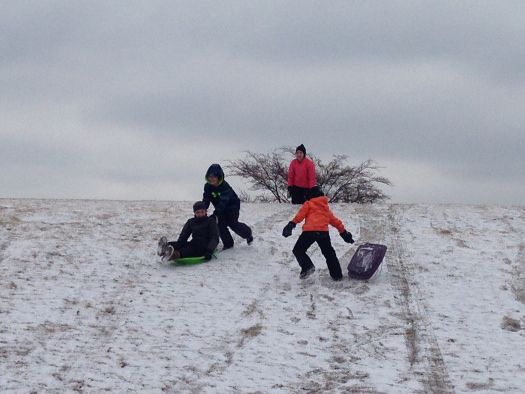 This morning it started snowing as I was driving the kids to school. I picked up the band instruments and dropped off my niece's trombone at S#2's house. I stayed to talk for 10-15 minutes and then headed to work. At the first light, a truck slid into the intersection blocking all northbound traffic. At the second, the car in front of me tried to turn right and went straight instead. That was enough for me. I didn't want another broken wrist and I was much closer to home. I turned around and worked from home.
The snow continued all morning long. School decided to have an early release at 1:00. DH picked up the kids and took them sledding at the community college. They have decent hills for Texas. There wasn't much snow, but they said it was good for sledding.